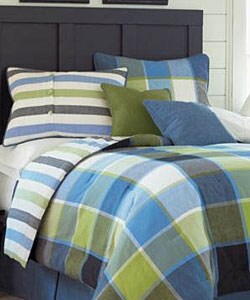 Yes, I wish this was my bed. Alas,it is not. The comforter shown in this picture, however, is mine. I love the reversible fabric. I love the plaid on one side, the lighter striped pattern on the other. I bought this from Overstock.com probably about 2 years ago for just under $50.00. I figured it would give me a few years, then give out. Well, I was right. The batting inside has torn and bunched badly The poor thing is pretty much unusable. However, it being the only comforter I have, I've had to use it - even in it's horrendous shape.
I really didn't want buy another cheap comforter. I REALLY REALLY REALLY want another goose down duvet. Our last duvet met its nasty end when one of our cats decided it was a much better place to pee on than in the litter box. But she was old and sick, and I forgave her.
I had thoughts of turning the fabric from the comforter into a duvet cover. It wouldn't take much, but getting a new duvet is something I cannot afford right now. Have you priced them lately??? O.M.G. it almost makes you want to raise the geese yourself just for feathers.
Anywhoo...I needed to do something quick. The comforter desperately needed to be washed, but the batting inside wasn't going to be able to handle another washing & drying. It hasn't been warm enough to line dry, either, which I was doing in nicer weather to save some wear and tear. What to do? What to do?
If you remember from my blog-post about the necklace board I made...I tend to dither. I want to do something, but I can't because something else needs to be done first. And that can't be done, because of cost or SOMETHING that always manages to bog down the process. So I dither. I let ideas swirl in my head, and nothing ever gets done. Starting this blog is helping me to stop and say, "Do What You Can Now." Just do it, and do it better later, if you need to. So I am.
I went to the craft store, and bought out their section of poly fiber-fill. I remembered from my pillow making days, that you generally 2x what you think you do when it comes to fiber-fill. So I got lots.
I dug out my old sewing kit, and hunted up my seam ripper. The seam ripper and I used to be good friends, back in the old sewing days. Yes, together we've ripped a seam or two...hundred. I sat down with my comforter, my seam-ripper, a large garbage bag, and whatever was playing on the History Channel (something about the Pope, but I really wasn't paying attention).
I carefully "ripped" about 2 1/2 inches of seam from the side of the comforter. I pulled out all the gnarly stuffing from inside. And I do mean GNARLY. If you have a dog, and you let that dog sleep with you on the bed, then you know GNARLY. I carefully took out the laughable quilting stitches in the middle of the thing (seriously, there were maybe 6 one inch long quilt stitches for a king sized comforter), which is why the batting tore and bunched up in the first place.
I'm washing and drying the shell of the comforter, then I will stuff it with the new poly-fill, then I'll whip-stitch the side seam back up. And Viola! One fixed comforter.
You might ask, why didn't buy new batting, and re-quilt the thing? Because I *do* want to go back at a later date and make this a duvet cover - when I finally get my new goose-filled duvet. Re-stuffing the comforter now will tide it over until I get that new duvet (and oh yes, I will get it). Then I can open the foot of the comforter, take out the poly fill, throw in the duvet, and either put on buttons, snaps or Velcro, as a new closure.
See? It *can* be fixed for now...and made better for later. :)
And the dog can't lay on it until she gets a bath...and I mean that sincerely.